Welcome to the Home of Modern Magick and Manifestation!
Are you ready to unlock the secrets of the universe, tap into your inner potential, and create the life you desire? You've come to the right place.
Here, you'll embark on a mystical journey where ancient wisdom meets the power of intention. Our website is a sacred space dedicated to the exploration of modern magick and the art of manifestation.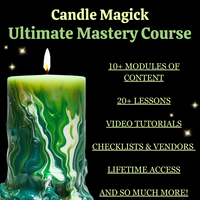 PRE-ORDER, AND SAVE!
Be the first to secure your Candle Magick Ultimate Mastery Course and enjoy an exclusive $100 discount when you pre-order today! Don't miss out on this fantastic deal!
All digital courses and downloads are available on 12.1.23
Want to make Magick Happen? Our Intention Candles will help! Check these out!
You can't have candles without conjure oils! Look at these babies!
Testimonials
Amazing experience she touched on everything that was happening in my life. I highly recommend Whitney, her gift is like no other. Very thankful for her.

Diamond M.
The most amazing person I've ever met. She hit everything on the nose. I will forever be a supporter and highly recommend her❤️ thank you so much

Ashley H.
She was absolutely amazing. She brought me to tears with her reading. She told me exactly what my soul needed to hear to be able to move in the right direction and make the best decision for me! I absolutely adored reading with her. She reads with so much kindness and compassion. She is truly a beautiful soul!

Michelle C.
I had a 45 minute reading and a come to Jesus moment with Whitney and it was everything! Whitney is not only Phenomenal, she's very passionate and loves her abilities! I will definitely be reaching out to her again!

Lamisha T.
I was extremely hesitant to have my life tapped into. I've looked into others but it never felt right. A friend of mine shared Whitney's post and I didn't feel hesitation. The reading was very very good to be my first. It was literally a real life reading. As if she's with me everyday. I loved it and will definitely do it again with Whitney!

Jada T.
All I can say is that my experience was mind blowing. She touched on so much my jaw was dropped the whole time I couldn't believe it. She gave me a piece of mind through the pain that I'm feeling today. Thank you so much for sharing your gift 

Latia O.
She is so bomb & was on point I absolutely loved my reading I will definitely be back.

Malaysha T.
Reading was so on point I recommend her to any and everyone Blessings

Wahid W.
I'm so greatful for this experience! I'll be booking a reading soon! It was a great feeling afterwards!

Tina L.
Location
Intentions with Whitney
PO Box 22017
Baltimore, Maryland 21233
OPEN
Tuesday- Saturday
12- 7pm  EST
Sunday , Monday- CLOSED